The Characterization of Thermoelectric Generator in Utilizing the Heat Waste of the Biomass Egg Drying Machine
Sudarmanto Jayanegara

Department of Mechanical Engineering, Hasanuddin University

Zuryati Djafar

Department of Mechanical Engineering, Hasanuddin University

Zulkifli Djafar

Department of Mechanical Engineering, Hasanuddin University

Nasaruddin Azis

Department of Mechanical Engineering, Hasanuddin University

Wahyu Haryadi Piarah

Department of Mechanical Engineering, Hasanuddin University
Keywords:
Characterization, Egg Rack Dryer, TEG, Temperature Difference, Voltage DIfference
Abstract
This research was conducted to determine the character of the TEG module as a source of electrical energy in utilizing heat in the chimney wall of an egg rack drying machine that uses rice husk as engine furnace fuel. The test is carried out by utilizing heat on 2 pieces of chimney (upper chimney and lower chimney) separated by a Heat Exchanger (HE) with a furnace blower speed of 2600 rpm and environmental blower speed of 2800 rpm with the amount of thermoelectric used as many as 44 units. The results show that the TEG module in the upper chimney obtained temperature difference (∆T), voltage difference (∆V) and power (P) respectively ∆T 38.75 ° C; ∆V 3.68 Volts; P 0.796 Watt and for the lower chimney respectively ∆T 73.25 ° C; ∆V 12.26 Volts; P 2.446 Watt.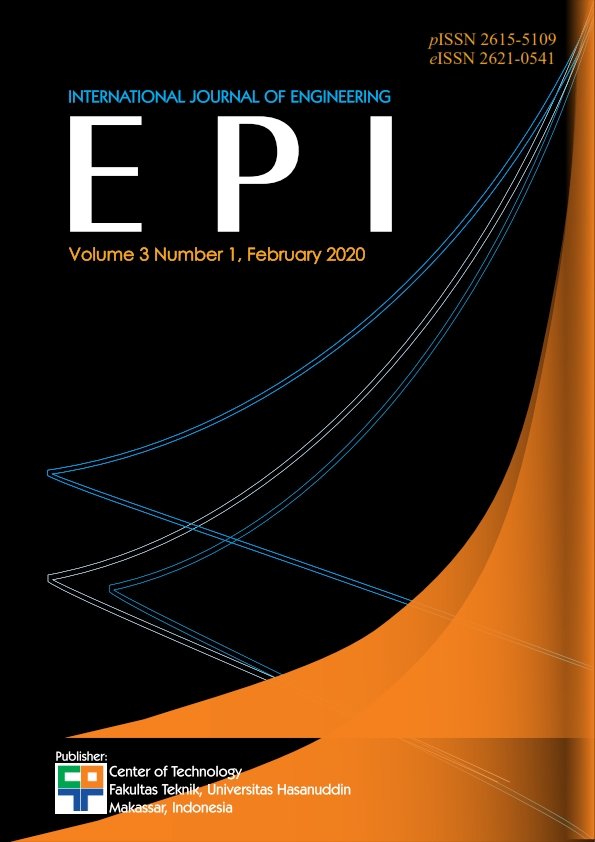 How to Cite
Jayanegara, S., Djafar, Z., Djafar, Z., Azis, N., & Piarah, W. (2020, August 31). The Characterization of Thermoelectric Generator in Utilizing the Heat Waste of the Biomass Egg Drying Machine. EPI International Journal of Engineering, 3(1), 30-33. https://doi.org/https://doi.org/10.25042/epi-ije.022020.04
This work is licensed under a Creative Commons Attribution-NonCommercial 4.0 International License.