Study on effects of specimen size of unconfined compressive strength of improved soil
T. Himeno

K. Takatani

T. Hino

S. Mandhar

S. Shrestha
Keywords:
Deep mixing method (DMM), Influence of specimen size, Laboratory mixing test, Unconfined compression strength
Abstract
Deep mixing method (DMM) is one of the countermeasures for long-term stability of the soft ground area, specifically highly applicable in coastal lowland. With the economic growth in ASEAN countries, this technology has become more popular in order to develop stable infrastructures through mega projects.
In this paper, discussions are carried out through conducted laboratory mixing tests by where samples were extracted from the site in order to maintain the quality of soil-cement column by using DMM based on designed methodology. In Japan, samples are extracted continuously from the vertical direction using a thin-walled sampler. It can be connected from considering characteristics of strength development of each depth grouped into three sections from the tube into upper, middle and lower portions. However, the case of non-uniformity and the total amount of sample taken from the site is not enough, there will be the possibility to encounter a difficult situation to conduct laboratory mixing test using standard specimen size of D 50 mm × H 100 mm. Therefore, the characteristics of strengths appeared in the standard size of D 50 mm × H 100 mm laboratory mixing test is compared and discussed with newly defined laboratory test of specimen size D 25 mm × H 50 mm.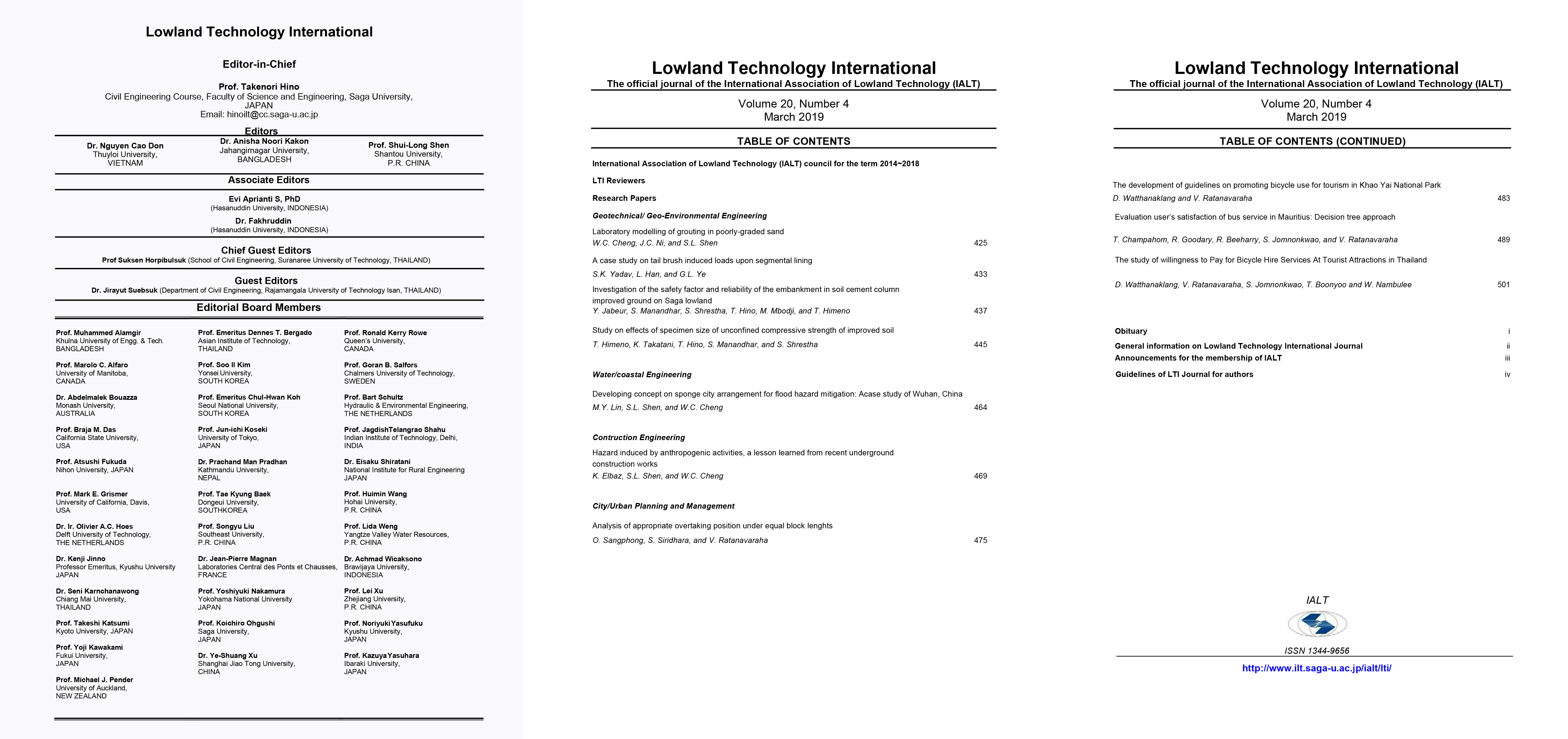 How to Cite
Himeno, T., Takatani, K., Hino, T., Mandhar, S., & Shrestha, S. (2019, March 3). Study on effects of specimen size of unconfined compressive strength of improved soil. Lowland Technology International, 20(4, March), 447-452. Retrieved from http://cot.unhas.ac.id/journals/index.php/ialt_lti/article/view/604